The Future of Blockchain in the Asia Pacific
By Manish Bahl, Senior Director, Center for the Future of Work, Cognizant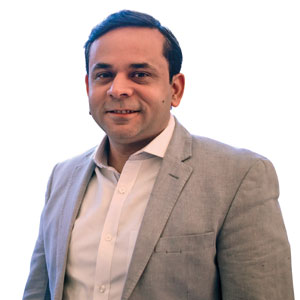 Manish Bahl, Senior Director, Center for the Future of Work, Cognizant
Two years ago, the World Economic Forum predicted that 10 percentof global GDP would be stored using blockchain by 2027. Fast-forward to 2018.
Blockchain—the emerging distributed ledger technology with the potential to automate not just key processes but entire industries—is moving from conceptual buzz to mainstream business discussion.
Innovation in and around blockchain is currently concentrated in the U.S. and Europe and is primarily focused on financial services, but the application of the new technology is quickly spreading over the Asia-Pacific region. For example, China has explicitly made blockchain a pillar of its economic development strategy. Moreover, the region has a high demand for financial inclusion and the need for more efficient, convenient and affordable products and services. In fact, over two billion adults (almost one-third of the earth's population) have never banked in their lives, many of whom live in developing nations. As a result, many observers believe Asia will become a crucial engine for venture capital investment and a hotbed for blockchain innovation–perhaps sooner than most global economy pundits had imagined.
Key factors driving blockchain adoption in the Asia Pacific region:
Favorable regulatory environment:
Asia-Pacific is home to a forward-looking regulatory environment. Japan and South Korea have regulated cryptocurrency environments, and their central banks are in the process of licensing exchanges; in fact, the U.S. may follow Japan to license Bitcoin and cryptocurrency exchanges. The Monetary Authority of Singapore has adopted a proactive approach towards blockchain, and China's Central Bank is piloting a sovereign blockchain digital currency to provide a flexible regulatory environment. Also, regulators in Australia and Hong Kong are providing the necessary thrust for blockchain innovation by establishing regulatory sandboxes to ease testing and piloting of blockchain projects.
Rising middle class:
By 2020, more than half of the world's middle class could be in Asia-Pacific, accounting for over 40 percent of global middle-class consumption, and leading to a larger market for financial services in the region.
Firms need to be laser-focused on understanding how blockchain will address existing business problems and building a roadmap to integrate it into the business strategy
Individuals working outside of their home country:
Another factor driving blockchain adoption is that many individuals across Asia working outside of their home country are increasingly demanding a more efficient and affordable system to send money home. The current average fee for sending money ranges from 5to 20 percent. Blockchain has the potential to cut current cross-border settlement costs significantly. The real-time, cost-effective, international payments could become the norm in Asia- Pacific.
Unblocking the Future of Blockchain in Asia

Before embarking on a blockchain journey, firms need to be laser-focused on understanding how blockchain will address existing business problems and building a roadmap to integrate it into the business strategy. While the potential of blockchain is immense, so is the uncertainty surrounding it. These are our recommendations for preparing for the blockchain future and maximizing the benefits from blockchain's slow and steady rise:

Take a pragmatic, iterative approach: Firms should assess blockchain technology on a use case basis. Organizations should make careful, pragmatic investments to advance their understanding and plan to iterate and learn as they go, abandoning unpromising applications. To do this, ensure that several members of your core technology teams are immersed in all things blockchain. Create alliances with key blockchain technology vendors (both product and service). Ultimately, the companies that lay these foundations now will emerge as the real leaders in this space.

The blockchain is not the answer to every business problem: As with all technology trends, there will be blockchain fanatics who see blockchain's applicability to almost everything in the company. Scattershot initiatives or overly general suggestions to "just do blockchain" invariably backfire because those carrying out the order typically do not know the difference between "fast" and "far." In such instances, precious time, money and effort are spent on technology-first initiatives without anybody asking, "What's the business benefit here?" If a business problem doesn't involve consensus-driven trust and complexity or an intersection of the two, then you probably don't need blockchain.

Ensure IT infrastructure readiness: Regardless of whether your organization is recreating a business process from scratch or injecting blockchain into front-, middle- or back-office processes, and success will depend on how well the IT infrastructure is integrated with blockchain solutions. Companies that wish to make the switch will need to think hard about how to effect this transition because blockchain's distributed ledger operates on a decentralized/shared infrastructure and functions differently than a centralized legacy IT foundation. Several IT infrastructure components, including security, networking, and storage, will be influenced by the blockchain network type (permission or permission-less) and deployment strategy. Blockchain can upgrade existing inefficient systems or even introduce infrastructure that didn't exist before.

Think big, start small, learn fast and adapt quickly: As with any major business change or technology cycle, discretion is the better part of valor, and our advice with blockchain is to start small. For example, target a subset of a work activity, a single process or a set of focused customer interactions that can be improved by blockchain thinking and technology, either through an internal application or using a consortium approach. You'll need the data, the platform and a clear understanding of what happens before, during and after the blockchain solution goes live. Many companies may take longer than expected to migrate from pilot projects to scale, particularly as they grapple with internal and external challenges. What has your organization learned from its pilot? What went well or not so well? Ask your team to be brutally honest–hypercritical, in fact. Pivot, adjust, recalibrate and repeat. Make sure all the exploration doesn't become a graveyard of pilots– unused toys lying around your innovation lab.

The collaboration will form the basis for blockchain innovation: Blockchain innovation cannot happen in isolation. This means companies need internal and external collaboration. The commitment from top management will encourage buy-in from key stakeholders across the organization. It is only when individual function heads are engaged, committed and willing to fund blockchain initiatives that true transformation will happen. Industry-wide collaboration among participants, exchanges, and regulators is also critical to blockchain adoption. The early tangible outputs from such collaborations can then be socialized internally within participating firms, generating interest for large-scale projects.

The flexible strategy will help adapt regulatory changes: A lack of globally accepted technical standards to enable interoperability is a bottleneck for a strong blockchain ecosystem. Blockchain-based distributed ledgers will need to be legitimized by regulators in order for companies to rely on them as a single source of truth. Firms must plan to focus on developing a blockchain strategy that can accommodate impending regulatory changes.

Blockchain represents the most significant technological opportunity of the next decade and is likely to be a wellspring of innovative ideas for leaders across the globe. Thoughtful observers of the blockchain phenomenon already recognize that they cannot ignore the cost efficiency and business effectiveness promises of distributed ledger technology. Just as the Internet upended the way we connect with the world, blockchain will provide a new model of trust. It's time to find your organization's digital business identity with blockchain.

Leaders that can separate blockchain noise from reality and adopt a flexible strategy in overcoming the inevitable business-technology and cultural challenges that occur along the way will be best positioned to reap significant advantage in business value far into the future. Ultimate success will require an open mind, perseverance, and courage.