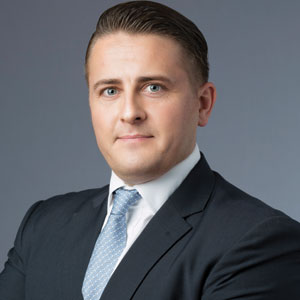 Miles Pelham, Chairman & Founder
The founder of Diginex, Miles Pelham envisioned very early on the potential of blockchain to disrupt the financial services industry and foresaw the potential of the technology in changing how the developing nations function. As the youngest serving chairperson of a UK-listed company and seasoned investment banker with more than two decades of experience, Pelham is the impetus behind Diginex's inception. "I had a strong conviction that at some point, the industry would require a highly credible and mature blockchain solutions company, which would be able to comply with the regulations that are expected," says Pelham.
The implementation of blockchain technology, according to Pelham, is set to impact every individual, corporate, and government over the next 20 years. But is still a puzzle to most businesses, and reputable partners and consultants are sparse in this new technology driven landscape. Corporates encounter a number of challenges when implementing blockchain solutions to gain a competitive edge in the marketplace. They are looking for partners who can help educate and advise on this new technology to increase margins, efficiency, and product valuation. This is where Hong Kong-based blockchain solutions company Diginex tables their blockchain consultancy solutions and expertise.
Diginex is a professional conglomerate of high-performance computing data centers, blockchain solutions, and financial services. The multinational company provides institutional-grade, blue-chip solutions and implementation in the revolutionary blockchain scene while serving as the partner of choice for businesses well versed in distributed ledger technology.
Diginex is built around a bench strength of top-grade players including investment bankers, project managers, seasoned technologists and more, who understand the importance of a successful blockchain project and demand perfection in that process. "We all believe in the transformative potential of blockchain technology and want to help our clients to successfully implement this technology," says Pelham.

Diginex places utmost importance on compliance and regulations, especially concerning anti-money laundering and KYC regulations. The regulations in certain jurisdictions are quite ambiguous at the moment, the Diginex team interprets them for clients, using industry best-practices as a guide, to ensure their clients remain compliant as the legislation evolves.

In the company's mix of businesses, Pelham predicts that the current uptake will be slower for the blockchain solutions and advisory business as the technology is still so new, but acknowledges this will scale with its evolution. On the financial services side, Diginex's main focus is the transfer of value using digital currencies, and on providing a professional service in the digitization and safe custody of assets for institutional investors.

Diginex considers its peers those in the financial services sector, due to its core focus on providing exceptional service for its clients. One of Diginex's partners, a large property management group in Asia was looking for a way to help clients to buy high value assets such as property, art and fine wine using digital assets. Diginex worked to create a platform that delivers a smooth compliant process for people to purchase goods. The platform had to include functionality to ensure it was compliant with all local regulations where purchases would be based and strict ALM and KYC procedures were included. "We built a portal to allow those with digital assets to purchase property and other high-value goods at the same time helping them stay compliant with regulations," says Pelham.

Diginex's short-term plans include the upcoming launch of a full suite offering of investment banking and asset management services for institutional investors. On the solutions side of the business, Diginex is focused on developing five to eight blockchain solutions catering to specific industry segments such as digital ID and voting. The company has already begun to expand its blockchain infrastructure division and will develop into a hybrid model for computing power and infrastructure for the AI and blockchain industries.