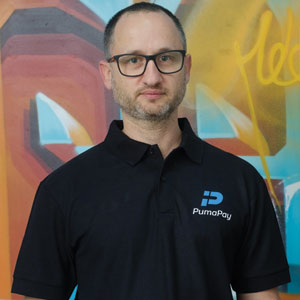 Yoav Dror, CEO
Payment cards are fast losing sheen. The financial market has become oligopolistic, and each of the incumbent players controls their networks, dictating the rules and the costs. This centralistic structure leads to inefficiencies, and the merchants that depend on card acceptance for their existence have to comply with an endless list of rules dictated by the owners of these networks. Moreover, they are also subject to a complex fee structure that ranges within 2-5 percent—going up to 15 percent in cases of high-risk merchants—of their gross receipts and is often exposed to the risks associated with fraudulent activity and chargebacks. As the cons outweigh the pros, "Payment cards were not designed to deal with our modern, fast-paced, global economy," states Yoav Dror, CEO of Decentralized Vision.
The future is here: Decentralized Vision offers PumaPay, a free and open-source blockchain-based billing protocol architecture that combines the potential of the blockchain with the scalability and usability of credit cards. "It is reinventing everyday payments and aims to become the de-facto standard for high-volume transaction processing," says Dror. PumaPay, based on 'PullPayment Protocol,' is architected to help merchants pull funds from customer accounts based on predefined terms and agreements.
The PullPayment Protocol technology enables merchants to process and pay in cryptocurrencies and eliminate the exorbitant 2-5 percent, or in some cases even up to 15 percent credit card charges or other billing processors. PumaPay is already available in the market as a standard 'Push' solution that effectively eliminates fraud, chargeback risks, and other fines.
Decentralized Vision's solution enables merchants to forego the current financial shortcomings in a centralized system such as discriminatory charge and term imposition on 'high–risk' bank customers, and long-approval time for large transactions. The utilization of blockchain technology also eliminates payment limitations that are levied on banks and other financial institutions.

With the PullPayment feature, Decentralized Vision has introduced a payment method that enables recurring payments with fixed variable amounts, pay-per-use services, and split payments. "The PullPayment Protocol being highly flexible enables merchants to customize according to their unique needs and develop their own billing scenarios," says Dror.

PumaPay offers a versatile range of billing scenarios, decentralized structure, eliminates chargeback and associated fines, and accelerates payment processing. PumaPay equips cryptocurrency holders worldwide with a convenient outlet for crypto funds and allows efficient payment solution both online and offline for products and services. In fact, clients can build a holistic business platform with PumaPay as Decentralized Vision enables the feature of marketing their products and services to cryptocurrency holders through PumaPay Cryptocurrency Wallet and PumaPay Pride.

While highlighting the proficiency of PumaPay, Dror explains that ImLive, one of PumaPay's launch partners has already implemented Version 1 of the solution. With PumaPay token as a method of payment, ImLive has successfully enabled a convenient and crypto-enabled payment solution. The solution provides the end customers with flexibility and ease of use. For the merchant, the solution eliminates the problem of high transaction fee payments and fines as well as reduces the payment consolidation timeline. Decentralized Vision's testament to its platform's proficiency is its list of prominent clients, which include FashionTV, Rent24, Vivid Entertainment, CCBill, ExposeBox, Globacap, Wix, Pornhub, and Powerpay21 among others. Decentralized Vision is in the process of finalizing Version 2 of the protocol, which will support recurring payments on the Ethereum blockchain and enable merchants to easily integrate the solution.

Decentralized Vision is focused on enhancing the core of PumaPay by harnessing the power of multiple third-party expansion services with installment-based payments, smart contract management certification, and dispute arbitration companies. During its fundraising and private sale that ended in May 2018, PumaPay became one of the highest grossing ICO projects by raising over $117 Million. Decentralized Vision is partnering with the University of Nicosia to continue the advancement of blockchain for reforming everyday financial transactions.

Decentralized Vision News

The Long-awaited PumaPay Business Console Is Now Available
Months of hard work has finally paid off for the PumaPay team. The PumaPay Business Console is now available for business.

FREMONT, CA: PumaPay is known for its attempts towards redefining the payment arena by imparting the ease of use and flexibility of credit cards to the blockchain sector. The firm is developing a total payment system having the requisite tools to meet the needs of both enterprises and customers. The PumaPay managed payment service empowers enterprises to set up their account with ease to start receiving cryptocurrency payments immediately.
Read More