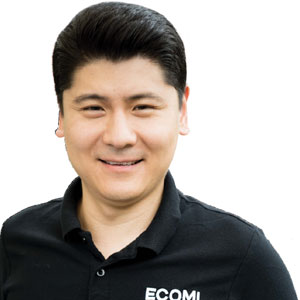 David Yu, CEO
San Diego Comic-Con, 2017: Like many DC enthusiasts around the world, David Yu was also overwhelmed by a new Superman comic that had just released. Though he got hold of a comic, Yu was relentlessly pursuing one thing that would essentially make the comic his prized possession—an autograph by Jim Lee, the artist behind the illustrious Superman comics. "I wish I could explain the sense of fulfillment when I finally got his signature on my comic book," expresses Yu. His passion for collectibles items is shared by many in the world, which led him to introduce ECOMI, a company that provides a blockchain-based social marketplace for collectors such as himself.
ECOMI entered the collectible marketplace with a vision of becoming a 'consumer-ready platform' with its first product, the Secure Wallet—a cold storage hardware wallet for cryptocurrencies, non-fungible tokens (NFTs), and private keys for decentralized applications. This development served as the foundation for the ECOMI Collect platform, which the company has created for licensed digital collectibles, providing devoted collectors a marketplace for the exchange of digital assets with real-world ownership. ECOMI Collect combines encrypted data access with decentralized data protection and file storage to provide transparency into the exchange of collectibles while ensuring the safety of assets. It also functions as a social media platform for collectors to interact with each other and showcase their prized possessions.
A Social Marketplace for Collectors
"Our technology is designed for the mainstream consumers, and it can be used with little to no understanding of blockchain technology," says Yu. ECOMI Collect not only provides intellectual property rights to digital content creators, but also brings a sense of intuitiveness and ingenuity to the collectibles market by offering a platform that justifies the immutable ownership of digital assets, licensed content, and collectibles. The platform allows enthusiasts to trade, buy, and sell digital items by functioning as a peer-to-peer marketplace. ECOMI Collect works in coherence with the Secure Wallet by displaying the NFTs associated with collectibles through augmented reality applications, where the platform creates a digital showroom with the ability to share collectibles on social media.
Our technology is designed for the mainstream consumers, and it can be used with little to no understanding of blockchain technology
ECOMI upholds a collector's emotions by preserving the scarcity, rarity, and novelty of items and 're-imagines' them in the digital world through the ECOMI Collect marketplace. In an event where a collector wishes to sell some of these digital assets, Secure Wallet comes in handy as it facilitates trade similar to cryptocurrency exchanges, without the involvement of a 'middleman.' Registering with ECOMI Collect is as simple as registering with an online retail outlet. A collector can download the application from the Play Store, create an account using Facebook, Twitter or Google sign-in authentications, buy OMI Gems used on the ECOMI marketplace—based on the face value of the collectible, and purchase their desired items. The application further creates a showroom to display all the articles procured by the user.
Safeguarding Digital Assets
The company also solves one of the classical problems plaguing cold storage wallets present in the market today. Most cold storage wallets in existence have cumbersome configuration processes prior to making transactions, require another device to which they could be plugged in, and are difficult to use for monetary exchanges. On the other hand, ECOMI's Secure Wallet can function on the go with easy-to-use feature sets, and offers consumers a readily accessible, cost-effective solution. The Secure Wallet is CC EAL 5+ certified, delivering state of the art security for digital assets.
As an extension to its Secure Wallet, ECOMI plans to offer two products—ECOMI Vault and ECOMI One— to improve upon the functionalities of its cold storage wallet. The ECOMI Vault protects sensitive data such as private keys on a decentralized blockchain network, accessible through the Secure Wallet. On the other hand, ECOMI One functions as a debit card that allows collectors to store, exchange, spend their cryptocurrency assets, and make peer-to-peer payments. The tokens are a derivative of the OMI Gems, which power the ECOMI ecosystem. In addition to offering customers a different mode of payment, the ECOMI utility tokens grant additional benefits and perks for customers as an appreciation for supporting the ECOMI network. "Each product in the ecosystem is designed to work together. For example, a collector can purchase their digital collectibles on ECOMI Collect using the ECOMI One, and he or she can store them on the Secure Wallet. They can also log into the ECOMI Collect marketplace to showcase or engage with other collectors," explains Yu.
ECOMI's products are the manifestations of Yu's vision of providing collectors a platform that uplifts their passion. To cement that philosophy, the company recently welcomed Alfred Khan as the head of licensing. Khan is a Hall of Famer and the man behind the success of Pokémon and Yu-Gi-Oh! "He was also responsible for turning Cabbage Patch Kids, Teenage Mutant Ninja Turtles, and Polly Pocket into household names. We are positive that his experience will add immense value to the company," says Yu. Bolstered by the skill sets of both industry veterans, ECOMI aims at taking the collectible market by storm, treasuring the passion for collectibles shared by many in the industry.