From Bespoke Blockchain-S to Standardized Blockchain
By Alexandre Kech, Head of Securities & FX Markets, SWIFT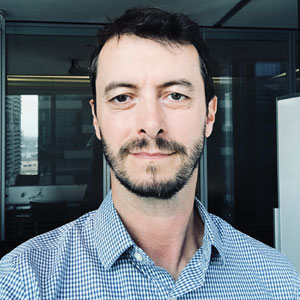 Alexandre Kech, Head of Securities & FX Markets, SWIFT
In capital market post-trade, the business area this article will be covering, parties to a transaction must always be identified.
Blockchain will therefore always refer to trusted permissioned blockchain, currently the only architecture matching such critical industry requirements around authentication and scalability.
Post-trade is a world of reasonable efficiency with processes enjoying high automation. It is also paved with ineffective practices, which, for many, remain in place due to vetted interests or the fear of change and its impact on legacy systems, business models, fees, jobs.
One common challenge to post-trade players is the need to reconcile records between parties to a trade (brokers, asset managers, custodians, market infrastructures, registrars, regulators). Every participant in the transaction chain has to make sure their book of records reconciles with others' ledgers. Breaks easily occur from corporate action miscalculated proceeds or human errors at one stage of the process. Reconciliation is therefore a full time job with investigations sometimes worth the scenario of a good detective novel.
This is where DLT promises to bring the most benefits. Enabling near real-time certainty on asset balances and transaction statuses would not only ensure compliance to transparency or liquidity driven regulations. It could also allow faster settlement, offering new opportunities to investors. Implementing blockchain for clearing and settlement, what the above means, is likely to happen first at a domestic level where exchanges or depositories are able to play the coordination role needed for such an implementation. At a global level, complexity increases, as it requires coordination of many players with different agendas and jurisdictions. However, the growing concentration of post-trade players and outsourcing of technology to a few firms might make it feasible faster than expected.
Another opportunity is around corporate actions, the announcement and subsequent processing of outcomes of events such as rights issues, or shareholder meetings.
The number of parties involved, regulatory transparency requirements, and the need for issuers to accurately manage entitlements, elections and votes, justify exploring a technology offering, out of the box, transparency, certainty and effective treatment of data across players.
The whole financial industry should join this standardization effort
Other post-trade use cases exist, for example, private equity issuance. Consortiums, industry players, vendors and utilities are working on many of them. All have the potential to leverage the native attributes of permissioned blockchain: controlled transparency, near real-time availability of truth, resiliency and immutability.
Evidently, other technologies offer all or part of these benefits but the current interest—one might say hype—around blockchain can be the catalyst to gather the right parties and solve these long-standing challenges. The outcome might be combining different technology solutions beyond DLT or even no blockchain at all. It does not matter. Pragmatism should always prevail when solving industry problems, but status quo is not sustainable anymore.
Blockchain offers efficiency gain opportunities in post-trade but challenges remain, often linked to the maturity of the technology itself.
One major impediment to universal adoption of DLT resides in the current proliferation of bespoke solutions. With many diverse implementations popping up, the risk of fragmentation is high. This is arguably inherent to innovation; countless solutions are launched before the most successful ones survive leading to a "winner-takes-it-all" standardization outcome. There must however be better ways to achieve adoption without burning millions, trying out "looser" solutions. Furthermore, lack of standardization leads to complexity and cost of integrating blockchain to legacy systems or non-DLT infrastructures.
Fortunately, FinTech players and their capital market partners are looking at leveraging ISO 20022, the de-facto post-trade business international standard. The ISO 20022 data dictionary and associated business models is used not only to define ledger data content and the APIs to expose it but also to model roles of blockchain users. The 20022 methodology also supports consistent and robust definition of smart contracts. Some implementations, such as ASX's new post-trade system, propose a hybrid access model allowing participants to interact with the infrastructure via a node or well-known ISO 20022 XML messaging; a pragmatic approach acknowledging that not all market participants are ready to "take a node".
The whole financial industry should join this standardization effort. There is no point in defining new data models for blockchain (nor API, for that matter) when the industry has been defining collaboratively (and implementing) ISO 20022 for more than a decade now. It is in everybody's interest to reuse the very rich open source content that this standards offers and its underlying powerful methodology. It will not only accelerate implementation but also ensure sufficient level of interoperability across solutions and with legacy systems, therefore achieving faster ROI.
Outside ISO 20022, more technical standardization will be required but a first easy step to go from bespoke blockchain-s to standardized blockchain is the adoption of ISO 20022 as a universal business standard for, in fact, any technologies involving the exchange of data. If you only need to remember one sentence from this article: "Whatever you do, 20022!"