Blockchain-Based Financial Service Applications
By Boon-Hiong Chan, Director, Head of Business Control Unit & Market Advocacy, APAC, Deutsche Bank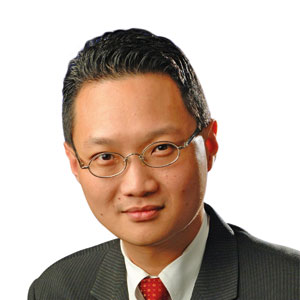 Boon-Hiong Chan, Director, Head of Business Control Unit & Market Advocacy, APAC, Deutsche Bank
Blockchain in the financial industry is seen as a transformative technology. From one angle, it is a distributed data and addressing system that provides transparency of data integrity. From another angle, blockchain functions as a fast value-centric transfer mechanism that has finance as a nature but with internet network and cryptographic technologies as core structures.
Like a borderless shared "computer" that unknown or "trustless" parties can use to transact, its peer-to-peer distributed ledger technology (DLT) could dismantle sequential or relay-based processes by shifting the nature of trust from entities to technology and maths. Blockchain is widely viewed to hold new potentials for greater efficiencies, cost savings and to be a catalyst for a new competitive landscape.
Since 2013, different segments of the banking industry have experimented with the technology; from transaction banking disciplines like payments, trade finance and securities post-trade, to risk capital raising via "Initial Coin Offerings (ICOs)". In this short article, we will highlight industry developments in one segment of its application - the "vertical" uses of blockchain as a payments method and how it could further evolve.
As a Payments Method
The first successful use-case of blockchain in the financial services space appeared as Bitcoin when it found its niche as across-border, retail low-value remittance method that avoided duplication with domestic methods like QR codes or Instant Payments. In this segment, Bitcoin's attributes of near-instant value, negligible transaction fees, competitive spread and convenience significantly contrasted with conventional non-DLT banking methods that were inconvenient and costly for low-value remittances that still required days before payments could reach the intended beneficiaries.
Attribute-Based Business Model Servicing Retail Remittances
These attributes had spurred the developments of fintechs' payment business models aimed at financial inclusion and at facilitating overseas workers' remittances. Initially successful, the subsequent severe volatility of Bitcoin's value and the increasing regulatory pressures have effectively tightened the expansion of this consumer-level business model. However, its success was noticed and has gone on to inspire more work.
Representing a new technology cycle, blockchain technologies as a payment method has been rapidly improving
Deeper Into the B2B Payment Segment
In the corporate services sector, for example, a few banks are now trialing private blockchains as a "peer-to-peer" inter-branch platform to facilitate their corporate clients' cross-border value transfers. This can be especially beneficial when dealing with markets where banking infrastructures are still evolving. Blockchain-based payment methods are also being discussed for their potential to reduce financial costs associated with "deep tier" supply chain procurement. In the capital markets, a distinguishing example is the bank consortium formed around the concept of the Utility Settlement Coin (USC) that is a digital representation of cash on blockchain, aimed at facilitating levels of efficiency and cost savings at potentially larger monetary values. In an innovative governance experiment by the Canadian government, Ethereum is being used to provide public disclosure related to grant funding. This transparency could also be used to promote audit trails in complex infrastructure and project financing.
Forward Looking Preparations by Central Banks
Several central banks have also started their own research into the uses of blockchain for example, as a liquidity savings mechanism, and potential Real-Time Gross Settlement (RTGS) enhancement and settlement mechanism. Broader implications of Central Bank Digital Currency as a potential carrier of a central bank's trust in a digital "cashless" society are also being analyzed.
M2M. A Brand New Payment Universe
A brand new digital universe in Machine-to-machine (M2M) transactions is also emerging, made possible by supermicro crypto-based payment mechanisms like IOTA. Away from the risks of double spend and able to be processed in decentralized ways, such implementations would allow digital communication between machines to be monetized. In such a new payment universe, Bitcoin's successors can become the currencies for artificially intelligent algorithms to pay for services or data provided by other algorithms.
Development Stage at the Industry Level
So where is payments using blockchain at in its development cycle?
As technology matures, it can intersect with other related technologies to create new possibilities, new risks, costs and concerns that can in turn drive legal and regulatory reforms. These reforms can reshape the rules of doing business to pivot and recreate business models. This can in turn influence the extent of market adoption and acceptance.
As an example, the internet cycle has roughly followed this path; from ARPANET to HTTP and deregulation of encryption techniques, these technology milestones have paved the way for e-commerce and secure online payment business models. Concerns about copyright infringements and inappropriate content have led to laws and court cases that clarified legal liability models for today's information digital transaction platforms to thrive. The advent of fast and ubiquitous mobile payment technology has promoted market adoption.
Representing a new technology cycle, blockchain technologies as a payment method has been rapidly improving. For example, Bitcoin's "SegWit" upgrade has enabled "Layer 2" solutions like Lightning that allows greater transactions per second scalability. Concepts like UTXO to track unique transactions and zero-knowledge proofs have made their ways to permissioned DLTs for value-transfer capabilities and greater transaction confidentiality.
Regulations and controls are also developing that can create the new rules of business over time. Hence, as a class of technology, if blockchain would develop like the Internet, it is at a relatively early stage of development today. Its road ahead is full of potential, intersections and changes.