Blockchain for Eradicating Paper-based Documentation
By James Bernard, Director - Sales, DMCC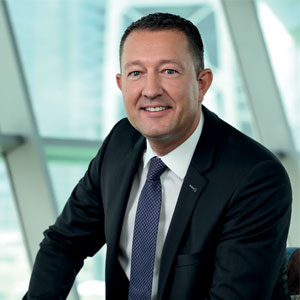 James Bernard, Director - Sales, DMCC
1. What are the current market trends you see shaping the Blockchain Space?
Blockchain technology, or Distributed Ledger Technology (DLT), is providing new opportunities for numerous sectors and industries globally, including education, property, medicine, security and trade finance. By providing a secure, decentralized record of transactions, a large degree of paper-based documentation would be eliminated resulting in automated workflows, smart contracts, and cost reductions. Companies using blockchain to strengthen and streamline their business also enable transparent knowledge sharing between all stakeholders.
Global trade and trade finance are at the cusp of a digital revolution driven by blockchain technology. Technological advances are rapidly streamlining business efficiency for global importers and exporters; reducing costs, increasing productivity, and driving economies. Cost of trade globally is estimated at $1.8 trillion, and 20 percent of that cost is related to paperwork. According to estimates by the World Economic Forum, reducing supply chain barriers to trade could increase global GDP by nearly 5 percent and trade volumes by 15 percent. As outlined in DMCC's latest 'Future of Trade Report', technology advancements could bridge the current $1.5tn trade finance gap, with potential to inject new growth in trade.
2. Please elaborate on the challenges that the organizations will need to address related to Blockchain space.
For blockchain to be effective, companies must consider the right time to adopt the technology and identify how and where in its operations it could be utilized effectively to produce value in some form. Although initially created for Bitcoin, Blockchain provides a very secure and transparent way of processing all kinds of data, and therefore, the various applications and uses of the technology are numerous. This however doesn't mean that all businesses will find a use for blockchain and for many it won't add value right now. Those who do decide to move ahead will need to work on how to connect and integrate their existing system with whatever blockchain solution they identify. Many still associate blockchain with bitcoin, and it's easy to see why the two get confused as without blockchain there would be no bitcoin as it serves as the platform for cryptocurrencies; but the scope of blockchain extends far beyond the world of crypto currencies.
Organizations will need to work to gain a clear understanding of the technology and be able to communicate the purpose, value, and benefits to their management and staff.
Distributed ledger transactions are likely to initiate changes to industry regulations governing financial reporting, auditing processes as well as information sharing systems
Regulation is also usually lagging. New products and services are evolving based on blockchain transactions, but there are currently few regulations on how the transactions should be written. Distributed ledger transactions are likely to initiate changes to industry regulations governing financial reporting, auditing processes as well as information sharing systems.
However, I am optimistic that the necessary changes will take place over the next few years, and these will shape the way blockchain is applied in businesses and make it easier to implement in the UAE and the wider region.
3. What is your advice for budding technologists in the Blockchain space? How do you see the evolution few years from now with regards to disruptions and transformations within Blockchain space?
As reported in DMCC's latest 'Future of Trade Report', blockchain is likely to redefine the trade sector over the next decade, providing faster, more secure and effective ways to handle workflows and move goods across borders, but that large scale progress is still to be made. The UAE and Dubai more specifically, are advancing fast by looking well into the future to capitalize on these changes. Authorities aim to transform the Emirate into a hub for disruptive, innovative technologies and using them to enhance and upgrade municipal apparatus, such as public services, security, and beyond.
DMCC as a founding member of Dubai's Global Blockchain Council embraces His Highness Shaikh Mohammad Bin Rashid Al Maktoum, Vice President and Prime Minister of the UAE and Ruler of Dubai, 'Emirates 2021 Blockchain Strategy'.
To support this strategy we have developed and launched DMCC Free Zone trade licenses with activities specific to this sector. We are working closely with many partners across the globe to promote Dubai as one of the leading blockchain destinations for any new businesses looking to start up in this space or existing businesses looking to expand into the ME and surrounding markets.
We are also working on providing a soft landing for entrepreneurs and their companies from across this sector, in the form of flexible working solutions and special packages to support startups/scaleups and their growth.
More recently as Government Partner, we supported the World Blockchain Forum in Dubai, giving access to many of the DMCC Free Zone member companies.
DMCC is supporting Dubai's Blockchain Business Registry, Dubai's latest initiatives. The Dubai Blockchain Business Registry project will seek to implement additional features to Dubai's existent blockchain for business system, known as Unified Commercial Registry (UCR). The Registry will help the Government store registration information from companies, as well as keep track of their changes, and thus streamline the process of setting up and operating a business in Dubai, while ensuring regulatory compliance across Dubai's business ecosystem.
My advice for entrepreneurs, technologists, and anyone who is interested in the blockchain space, is to remain educated, up to date, and curious of all the new innovative technologies that will rival or complement blockchain across the DLT space. I anticipate that over the next months and years there will be a huge increase in the number of applications and implementations of DLT and there will be a lot more innovation in the public and private ledger space. This will ultimately transform 'the blockchain' as we know it today.