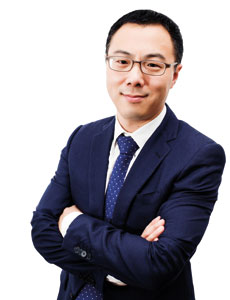 Sunny Lu, CEO
As trillions of dollars worth of goods and services traverse the arterial routes of global trade, the complexities involved for traders are endless. Today, the modern successors of the ancient Silk Route still rely on numerous paper-heavy processes and oftentimes the errors and delays that stem from these manual methods greatly weigh down the supply chain operations, bringing businesses to a halt. With the specter of insecurities looming large in a global scenario, beset with counterfeit products, smuggling, and unstable geopolitical scenarios, the purposeful vision is for a definite makeover of trading operations.
"We want to help in setting a new industry standard for exemplary blockchain solutions"
Globally, trading ecosystems are drawing innovative technologies into its fold to circumvent these hurdles, and among them, blockchain—by virtue of its distributed digital record—gains the most attention. Blockchain's powerful facilitation of secure and instantaneous transactions promises transparency and trust at every rung of the trade process. Blockchain is playing a significant role in global businesses today by widening international trading possibilities and reducing the redundant processes. "We want to help in setting a new industry standard for exemplary blockchain solutions," says Sunny Lu, CEO of VeChain. A pioneer in the blockchain industry, the Shanghai-based company offers a powerful and adaptable solution—the VeChain Thor blockchain platform—for any business process that can benefit from trustless, immutable, and readily available data.
Building trust and transparency across borders and companies, the key attributes of VeChain Thor blockchain platform include a comprehensive governance structure, robust economic model, advanced technology, and featured supporters.
A well-governed foundation is the key to longevity, growth, and stability. VeChain is primarily run by the VeChain Foundation, who are governed by the Board of Steering Committee that supervises the various functional committees within a decentralized foundation. The board members, through a governing agency, ultimately guide units toward cohesive goals and enable collaboration, efficiency, and output across channels. The comprehensive economic model comprises a robust twin-coin system that provides flexibility to create a store of value to be used as a smart payment currency and the appropriate means of managing the costs of using the VeChainThor protocol.
"We aim to build a trust-free and distributed business ecosystem enabling transparent information flow, efficient collaboration, and high-speed value transfer," asserts Sunny. VeChain Foundation—a non-profit entity established in Singapore in July 2017—anchors its vision to its reliable, strategic, and technology partnerships with PwC and DNV GL and support from Breyer Capital. Acting as VeChain's sponsor entity, the Foundation is committed to VeChain's development, construction, and governance.
According to Sunny, the value proposition of VeChain with regards to NEO and Ethereum is that VeChain doesn't believe in total decentralization. "We try to find a balance between decentralization and centralization. This leads us to develop the economic model and governance structure."
We aim to build a trust-free and distributed business ecosystem enabling transparent information flow, efficient collaboration, and high-speed value transfer
By introducing VeChain Thor, it opens the possibility for enterprise users to predict the cost of using blockchain platform, "free to start, pay for the value."
Today, VeChain has carved a niche in the blockchain industry by successfully delivering multiple blockchain solutions for various industries across the globe.
A Solution for Every Industry
VeChain's extensive array of blockchain solutions can facilitate lifecycle management for luxury goods, traceability for liquors, digital passport for automobiles, and certification management for agriculture to name a few. VeChain's expert team drawn from Fortune 500 companies such as LVMH, PwC, TCL, and HP comprehend the challenges specific to industry verticals to tailor the most appropriate blockchain solutions that can solve real-world problems. In a short span of three years, VeChain has garnered extensive implementation experience in logistics, pharmaceuticals, luxury goods, automobile, supply chain, retail, cold chain logistics, and food industries. The company's impressive client roster includes BMW, Renault Groupe, Kuehne+Nagel, Gui'an New Area, China Unicom, D.I.G. among other industry leaders.
Leveraging its blockchain technology, VeChain resolves the problems of counterfeits that are spiraling out of control and product traceability across logistics and supply chains. For instance, VeChain's cold chain logistic solution deploys proprietary IoT sensors to track key metrics throughout the entire journey and the data is uploaded to VeChain Thor blockchain. Every step of transportation needs to be perfectly calibrated to ensure customers get the freshest products. VeChain embeds data management and sharing in every process to make cold chain logistics transparent, regulated, secure, and reliable. For the automobile industry, the platform has created a digital passport of a vehicle, recording all data including repair history, insurance, registration, and even driver behavior throughout its lifecycle. VeChain puts data into the hands of owners, making data management comprehensive, accessible, and transparent.
The potential use cases of VeChain's blockchain also extend to the healthcare industry with impressive applications. The medical and healthcare arena stands to benefit from the end-to-end tracking of production processes performed by the blockchain platform and the use of medical devices. The production process and usage of medical devices remain regulated, efficient, safe, and reliable on VeChain's blockchain platform. Furthermore, with the patient's authorization, VeChain can enable patients to securely share their biometric data with their doctors to enable real-time monitoring.
Securing the Luxury Trail
As the former CIO of Louis Vuitton, China, Sunny's in-depth experience has translated into a series of industry-specific solutions for the luxury segment. VeChain has built deep collaboration with luxury brands.
At the outset, every product has a unique digital ID on the VeChain Thor blockchain platform and on the near-field communication chip. In the second stage, business operations that include manufacturing, logistics, warehousing, distribution, retailing, and quality-checks are automated through smart contracts.
A layer is built on the organizations' internal enterprise applications to connect with the VeChain Thor blockchain platform through standard APIs. Finally, the creation of a universal mobile application interface to the blockchain enables consumers to experience one-on-one interaction with the products and brands. VeChain's engagement touches all key stages of the product lifecycle and keeps all stakeholders seamlessly informed.

VeChain embeds smart chips within luxury goods that help brands to monitor their sales channels in real time and prevent illegal overstock trading and reduce the percentage of return of fake goods. This allows consumers to verify the authenticity of the luxury goods. As per Lu, with the emergence of eCommerce business, the online market is witnessing a rise in the returning rates of goods, several notches higher than the traditional retail market. In fact, almost 20 to 30 percent of the returned goods are recorded as fake. VeChain puts control back into the hands of the brands, making the luxury trail transparent, seamless, and data-driven and successfully reducing the return rate of fake products.

In yet another implementation highlight VeChain has partnered with DNV GL to help in their digital transformation. DNV GL is a global provider of assurance services and one of the world's leading certification bodies, assisting companies in a range of industries to improve their business performance. DNV GL progressively adopts blockchain to help their clients boost the transparency and traceability of their products from the factory to the consumer. By combining their know-how with key blockchain features and utilizing IoT devices like sensors embedded in a product, a unique insight can be obtained into a product's history, status, and performance. The insights throw light on how it is produced, transported, stored, and its current quality. This transparency and insight along the entire supply chain will give companies increased control and improved overall efficiency. VeChain with its technical assurance and DNV GL with its business assurance make logistics flow—from warehouse to stores to customers—in a transparent, secure, reliable, and regulated manner.

Re-Architecting the Future

As per Sunny, VeChain will be launching the mainnet VeChain Thor blockchain in the second quarter of this year. The global leading enterprise level public blockchain platform will help in the creation of a more user-friendly environment that will attract enterprises to utilize VeChain's blockchain technology. This new version will also include built-in governance tools, high scalability, side chain capability, state-of-art IoT solutions, and flexibility for real enterprise use.

In addition to launching the new blockchain platform, the company's global grant program, VeResearch is designed for academic communities to do collaborative research on blockchain-related technological advancements. VeChain will be creating a large pool of funding for interested parties to join forces with them for research and development programs on new technologies. The goal is to collaborate with top universities and research labs worldwide, and welcome professors or lead researchers from all fields who are interested in blockchain or blockchain integration. "In order to achieve what the Foundation has set out to accomplish, we need to forge alliances with an entire community of contributors and partners to pioneer the creation of new research frontiers across the world," states Sunny.

VeChain is at the threshold of heralding an era that places the power to change the future securely in the hands of the organizations, strengthening the impact of blockchain on global commerce.